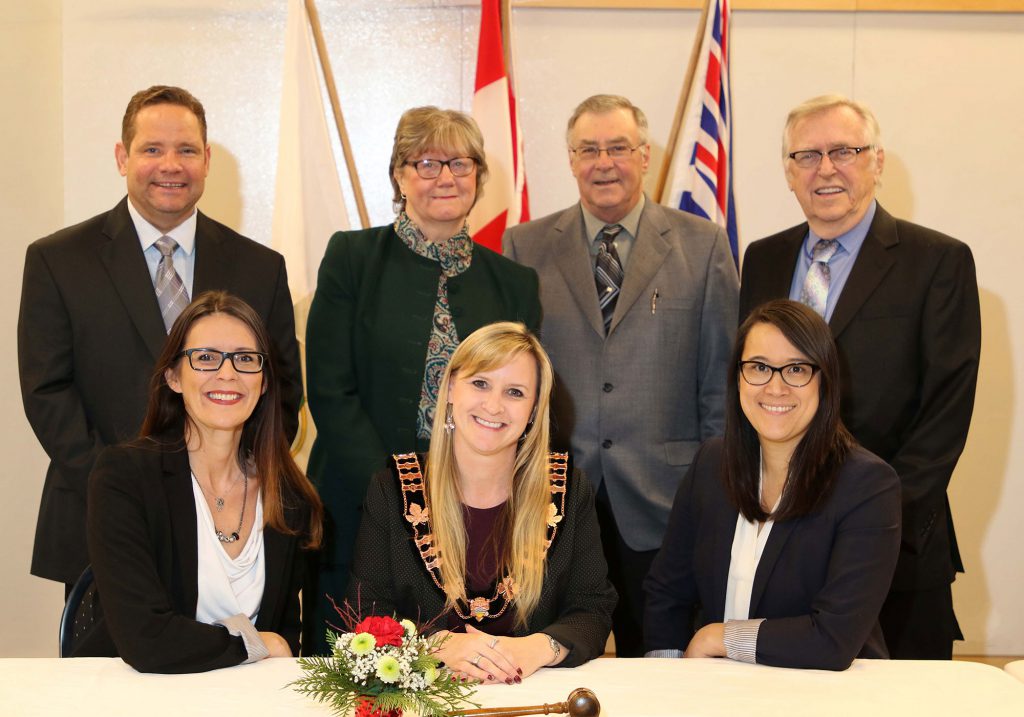 Mayor and Council of the District of Logan Lake
As Elected October 20, 2018 for a four year term.
Back Row: Councillors' Peter Martell, Marion Bell, Garry Youd, Al Smith
Front Row: Councillor Claire Newman, Mayor Robin Smith, Councillor Amber Chong
---
---
Message From the Mayor
On behalf of the citizens of Logan Lake, welcome to our great community!
We're well known for our diversity in outdoor recreation and I invite you to join us for some of the many events that we host throughout the year (ie. Polar Carnival, Pond Hockey, Community Garage Sale, Car Show, Logan Lake Day); or enjoy our endless trail systems, fish our lakes, tee off at our challenging Golf Course; stay a while in our fully serviced campground with free WIFI or just enjoy the solitude of Logan Lake.
We are young community that was formed to accommodate mining in the area and as a carefully planned community we focus on families and access to green spaces and parks. We are home to one of the largest mining operations in the entire world — Teck Highland Valley Copper is situated within the boundaries of the District of Logan Lake and is well worth the 20 minute drive to the viewpoint. We highly recommend you seize the opportunity to take a seasonal tour and experience the sheer magnitude of the operation. You will be impressed as you watch the movement of massive amounts of earth and learn about how they maintain sustainable practices.
We are a growing and friendly community located in the heart of the Highland Valley. Local communities such as Kamloops, Merritt, Ashcroft, Cache Creek and Savona are all located within an hours' drive, the Okanagan Valley is just two hours away and the Greater Vancouver area is a quick three hour drive. Our central location in the southern interior allows us to travel easily in all directions throughout the Province.
Check out our Events Calendar and mark your calendars for our many seasonal events. Be sure to ask about our business incentive programs, our new residential and commercial developments and/or our strategic plans for the future!
We are a small community with a big heart and we invite you to Discover our Nature!
Mayor Robin Smith
District of Logan Lake