Council Meetings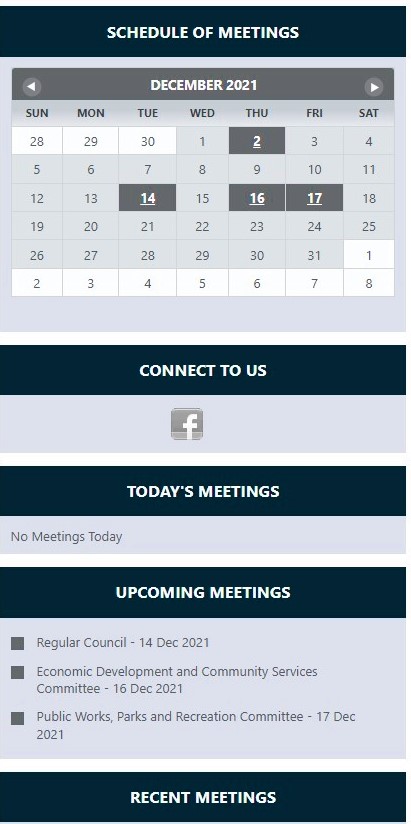 Regular Council meetings are open to the public and are typically held on the second and fourth Tuesday of each month, commencing at 6:30 pm in Council Chambers, located at #1 Opal Drive in the Municipal Office.
---
Council passed a resolution in 2021 to live stream broadcast Council meetings.
Transparency and accountability are fundamental to effective governance. That's why council and committee meetings are open to the public. They give community members the power to voice their concerns and hear what officials have to say.
Live streaming brings government meetings straight to you. Accessing broadcasts on a laptop, tablet, or phone makes it much easier to engage in local government. This also allows us to disseminate information quickly, increase transparency and accessibility and increase community engagement.
Due to supply chain shortages, the Tremont Creek Wildfire, and staffing capacity broadcasted meetings have been delayed. We are working with AV professionals to get the equipment required but due to circumstances out of our control wait times are much longer than anticipated. While we work on bringing broadcasted meetings to the community, we invite you to attend Council meetings in person.
---
Regular Council Meetings
Agendas for Regular Council meetings are prepared and posted the Friday before the scheduled meeting and for Committee of the Whole, Special, or InCamera meetings, 24 hours prior to the meeting. The deadline for public submissions to a Regular Council Meeting agenda is the Thursday before the meeting. Please deliver submissions to the Municipal Office at #1 Opal Drive, or by mail to Box 190, Logan Lake, BC V0K 1W0, or by fax at 250.523.6678 or by email to info@loganlake.ca.
---
Committee of the Whole
Committee of the Whole meetings have been scheduled for 2023, available for viewing below, and includes all members of Council (Please click on the schedule and scroll to the bottom). Committee of the Whole Meetings allow a Council to review and discuss topics in depth, and make recommendations only, to a formal "Regular" or "Special" meeting of the Council. Public notice of a Committee of the Whole meeting is required in advance and these meetings may or may not be open to the public.
Committee of the Whole Meetings Schedule
**** Please click here for details.
***
---
InCamera Council Meetings
InCamera Council meetings, also known as 'closed meetings', are meetings of a confidential nature that the public are not permitted to attend and can only be held pursuant to the regulations outlined under Section 90 of the Community Charter.
---
Appearing Before Council
Should you wish to appear as a delegation at a Regular Council Meeting please submit a Delegation Request form to the Director of Corporate Affairs at the Municipal Office, #1 Opal Drive or via email at dca@loganlake.ca prior to 1:00 p.m. on the Thursday preceding the Meeting. If you have any questions, please call the Director of Corporate Affairs at 250.523.6225 ext. 230.
---
Council Highlights
November 7 & 21, 2023 Council Meetings

Council supported the Royal Canadian Legion, BC/Yukon Command in 2024 with an ad to be placed in the Annual Military Service Recognition Book
Council will not proclaim November as Adoption Awareness Month as the District received the request too late in the month;
Council approved a budget for promotional and educational materials for the Education and Environmental Stewardship Committee regarding the history and storytelling of the wetland creation;
AND THAT the 2023 wetland's budget be allocated towards this and carried forward 2024 for implementation;
Council ratified the following telephone poll conducted on October 25, 2023:
"THAT Council approve lending equipment (garbage truck) to the Village of Ashcroft on October 25, 2023 to help meet their service requirements".
Council allocated $763,100 from the Community Works Fund (Gas Tax Reserves) for Option C of the proposed Skateboard Park as designed by Newline Skateparks;
AND THAT this be incorporated into the 2023 budget.
Council will cover the cost of registration fees for up to two (2) Youth to attend the Youth Parliament of British Columbia;
Council approved that Indigenous businesses and/or Corporations with the capacity to fulfill the requirements of a proposed project be included under sole sourcing/direct award in the District's Purchasing Policy;
Council will refrain from dedicating the Columbarium Wall to any specific individual(s); and that Staff work with the family of late Councillor Al Smith to provide an alternate option for a memorial dedication;
Council approved an increase to the Employee Wellness Program annual Stipend to $300 for each employee;
Council approved amendments to the Communications Policy to incorporate all municipal facilities under the purview of the Policy including Social Media accounts;
Council approved the additional wording of "but will endeavour to advertise further in advance" under the Communications Policy #8(f) Social Media;
Council approved 2 Staff to be appointed to the Teck Socio-Economic Working Group at the discretion of the Chief Administrative Officer;
Council approved that the Socio-Economic Working Group develop a Joint Terms of Reference with objectives to come back to the Executive, Policy and Relationship Building Committee;
Council appointed Councillor Martell to coordinate the judging for commercial businesses on December 7, 2023 and Mayor Smith to coordinate the judging for residential decorations on December 8, 2023;
Council approved that the Director of Corporate Affairs be authorized to dispose of the records identified in the "Inactive Records to be Destroyed in 2023" listing as submitted;
Council directed Staff to draft a Whispering Pines Cemetery Amendment bylaw to update all cemetery fees to be in alignment with current costs but to be incorporated over a period of two (2) years;
Council awarded the Logan Lake Skatepark project in the amount of $763,100 to NEW LINE Skateparks based on the demonstrated value that their consulting services brings and their unique knowledge, competence, and qualifications;
Council approved that Mr. Hanna's request for the purchase of items to be added to the Disc Golf Course be deferred to Budget; and that Staff forward a letter to Mr. Hanna letting him know the same;
Council approved that a letter be sent to Rogers Communications requesting an update on timelines of high speed internet implementation in Logan Lake; and that the Honourable Lisa Beare, Minister of Citizen's Services, be copied on the correspondence.