Council Meetings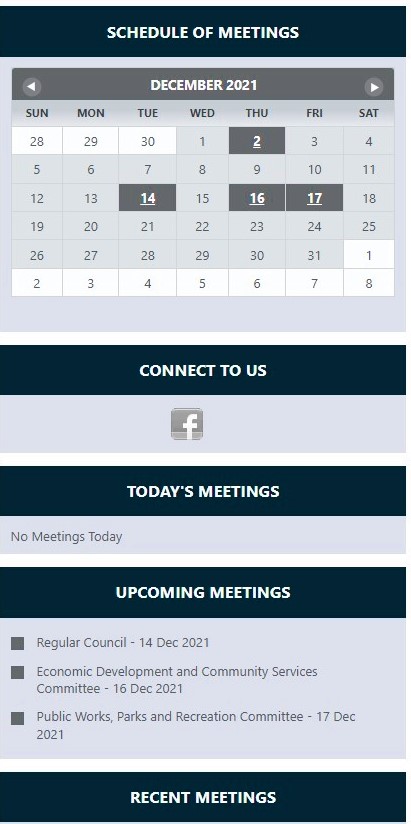 Regular Council meetings are open to the public and are typically held on the second and fourth Tuesday of each month, commencing at 6:30 pm in Council Chambers, located at #1 Opal Drive in the Municipal Office.
---
Council passed a resolution in 2021 to live stream broadcast Council meetings.
Transparency and accountability are fundamental to effective governance. That's why council and committee meetings are open to the public. They give community members the power to voice their concerns and hear what officials have to say.
Live streaming brings government meetings straight to you. Accessing broadcasts on a laptop, tablet, or phone makes it much easier to engage in local government. This also allows us to disseminate information quickly, increase transparency and accessibility and increase community engagement.
Due to supply chain shortages, the Tremont Creek Wildfire, and staffing capacity broadcasted meetings have been delayed. We are working with AV professionals to get the equipment required but due to circumstances out of our control wait times are much longer than anticipated. While we work on bringing broadcasted meetings to the community, we invite you to attend Council meetings in person.
---
Regular Council Meetings
Agendas for Regular Council meetings are prepared and posted the Friday before the scheduled meeting and for Committee of the Whole, Special, or InCamera meetings, 24 hours prior to the meeting. The deadline for public submissions to a Regular Council Meeting agenda is the Thursday before the meeting. Please deliver submissions to the Municipal Office at #1 Opal Drive, or by mail to Box 190, Logan Lake, BC V0K 1W0, or by fax at 250.523.6678 or by email to info@loganlake.ca.
---
Committee of the Whole
Committee of the Whole meetings have been scheduled for 2022, available for viewing below, and includes all members of Council. Committee of the Whole Meetings allow a Council to review and discuss topics in depth, and make recommendations only, to a formal "Regular" or "Special" meeting of the Council. Public notice of a Committee of the Whole meeting is required in advance and these meetings may or may not be open to the public.
Committee of the Whole Meetings Schedule
**** Please click here for details.
---
InCamera Council Meetings
InCamera Council meetings, also known as 'closed meetings', are meetings of a confidential nature that the public are not permitted to attend and can only be held pursuant to the regulations outlined under Section 90 of the Community Charter.
---
Appearing Before Council
Should you wish to appear as a delegation at a Regular Council Meeting please submit a Delegation Request form to the Director of Corporate Affairs at the Municipal Office, #1 Opal Drive or via email at dca@loganlake.ca prior to 1:00 p.m. on the Thursday preceding the Meeting. If you have any questions, please call the Director of Corporate Affairs at 250.523.6225 ext. 230.
---
Council Highlights
Council Highlights:
November 8 & 22, 2022 Regular Council Meetings

Council approved allocation of $15,000 for the Facilitated Strategic Retreat to be held February 10 to 12, 2023 at the South Thompson Inn;
Council approved the amendments to the Long Service Award Policy;
Council ratified the telephone poll conducted on October 20, 2022, that the Inaugural Meeting of Council be held on October 25, 2022;
Council approved allocation of $9,000 for the purchase of a Roll-Off Container for Unit #11;
Council supported an application to Northern Development Initiative Trust in the amount of $20,000 for the creation of a Business Facade Improvements grant fund for businesses in Logan Lake;
Council supported the 2023 FireSmart Community Funding application to the Union of BC Municipalities Community Resiliency Investment Program in the amount of $434,775.00;
Council approved that a letter of thanks be sent to Martin Ince, MKI Wind Energy for the presentation;
Council approved that reports on costs and conceptuals for Improvements to the Dog Park be forwarded to a future Committee of the Whole meeting and that an invitation to attend the Committee of the Whole meeting be sent to Deborah Brahmer;
Council adopted Animal Control and Impoundment Bylaw 893, 2022;
Council adopted Ticketing of Bylaw Offences Amendment Bylaw 894, 2022.
Council approved that Ltr 372 from the Ministry of Public Safety and Solicitor General be forwarded to the petitioners from Tunkwa Lake for information regarding Vision Quest;
Council approved that a letter be forwarded to MLA Jackie Tegart inviting her to a future Regular Council Meeting to provide an update and meet the new Council;
Council approved a letter of support be forwarded to the Chief and Council of the Lower Nicola Indian Band congratulating them on their Election;
Council approved scheduling a Committee of the Whole meeting, immediately before every regularly scheduled Council meeting, from 6:00 – 6:30 p.m. in Council Chambers located at #1 Opal Drive, Logan Lake; and that Staff be directed to make changes to the Council Procedural Bylaw to allow for delegations at the Committee of the Whole;
Council appointed Councillor McNeely to coordinate the judging for commercial businesses and Councillor Martell to coordinate the judging for residential decorations with judging dates to be determined at a later time;
Council referred Ltr 364 from the Logan Lake Athletic Club regarding items that the Club would like to address to the Director of Public Works and Recreation for review and recommendation;
Council gave third reading and adoption to District of Logan Lake Zoning Amendment Bylaw No. 897, 2022;
Council gave first, second and third reading to the District of Logan Lake Council Procedures Amendment Bylaw 898, 2022 and directed staff to proceed with public notification in accordance with Section 94 of the Community Charter.