Council Meetings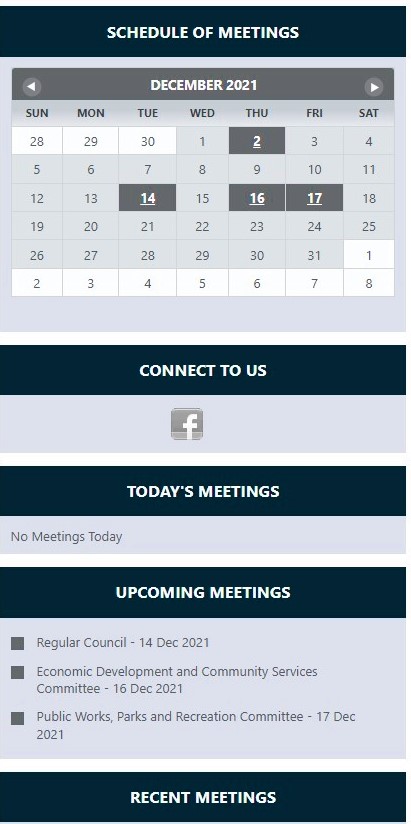 Regular Council meetings are open to the public and are typically held on the second and fourth Tuesday of each month, commencing at 6:30 pm in Council Chambers, located at #1 Opal Drive in the Municipal Office.
The current Provincial Health Officer (PHO) Order on Gatherings and Events (PDF) permits limited in-person public attendance at council meetings (subject to the PHO Order on Gatherings and Events and safety guidelines). With the return to meetings in Council Chambers, there is still a need to maintain social distancing and avoid unnecessary crowds. This is a smaller meeting space with limited capacity, and masks are mandatory in the gallery.
---
Regular Council Meetings
Agendas for Regular Council meetings are prepared and posted the Friday before the scheduled meeting and for Committee of the Whole, Special, or InCamera meetings, 24 hours prior to the meeting. The deadline for public submissions to a Regular Council Meeting agenda is the Thursday before the meeting. Please deliver submissions to the Municipal Office at #1 Opal Drive, or by mail to Box 190, Logan Lake, BC V0K 1W0, or by fax at 250.523.6678 or by email to districtofloganlake@loganlake.ca.
---
Committee of the Whole
Committee of the Whole meetings are meetings called by the Mayor, and include all members of Council. Committee of the Whole Meetings allow a Council to review and discuss topics in depth, and make recommendations only, to a formal "Regular" or "Special" meeting of the Council. Public notice of a Committee of the Whole meeting is required in advance and these meetings may or may not be open to the public.
---
InCamera Council Meetings
InCamera Council meetings, also known as 'closed meetings', are meetings of a confidential nature that the public are not permitted to attend and can only be held pursuant to the regulations outlined under Section 90 of the Community Charter.
---
Appearing Before Council
Should you wish to appear as a delegation at a Regular Council Meeting please submit a Delegation Request form to the Director of Corporate Affairs at the Municipal Office, #1 Opal Drive or via email at dca@loganlake.ca prior to 1:00 p.m. on the Thursday preceding the Meeting. If you have any questions, please call the Director of Corporate Affairs at 250.523.6225 ext. 230.
---
Council Highlights
Council Highlights:
January 11, 2022 Regular Council Meeting
Council approved that a letter be sent to the City of Pitt Meadows in support of their letter to the Minister of Finance regarding Unfair Taxation Benefiting Railway and Industrial Operations;
Council approved the costs to advertise a 1/10 Page (Business Card Full-Color) in the Military Service Recognition Book;
Council approved a letter of support for the Logan Lake Community Forest Corporation for timber salvage as outlined in the letter and on the map; and that Staff send a letter of correspondence to the Provincial Government informing them of the costs that have been incurred for previously planned fuel mitigation in Logan Lake;
Council authorized Staff to submit a grant application under the Community Re-Greening Program for the planting of trees in Logan Lake parks and green spaces including the Municipal Campground;
Council issued a Removal Order for the unsightly structure legally described as Lot 58, Plan KAP30879, DL 1667, Land District 25 and located at 94 Jasper Drive, Logan Lake, BC;
Council adopted District of Logan Lake Inter-Community Business Licence Amendment Bylaw No. 879, 2021;
Council approved the new Cambium technology trial in conjunction with nicolaNet and directed staff to work with nicolaNet on the project.  Council does not approve covering the costs of four (4) electrical connections as requested by nicolaNet; and
Council approved changes to Phase 2 of the contract with Planetworks Consulting from a detailed FTTH outside plant design report to a verification of 50/10 Mbps speed using Planetworks' Proof-of-Concept Automated hardware and CIRA's Publicly available speed test data.
---