Civic Pride is about active engagement in various types of social and civic activities, promoting the development and the wellbeing of our community and its members. But more so, Civic pride brings a community together and makes us feel good about where we live.
Ultimately, it's people who are at the heart of a vibrant, thriving community, so we want to recognize those individuals who put time and effort into helping Logan Lake be the amazing community that it is!
Every year the District accepts nominations for Citizen and Youth Citizen of the Year. On June 22, 2023 we presented the following awards:
Citizen of the Year
The purpose of the Volunteer Citizen of the Year Award is to recognize an individual or couple whose
exceptional volunteerism has enhanced the community. This year's recipient is Krista Dick who was nominated for her outstanding contributions in Service and Caregiving, Environmental Awareness and Leadership. In 2022 Krista volunteered 215 hours with the Girl Guides and 110 unpaid hours in Community FireSmart Initiatives.
Krista is dedicated to our community. She never hesitates to help, is invested in our local population, particularly with seniors and youth. She is caring and always has the community at heart and is always looking for opportunities to help and grow.
Within girl guides, Krista is a weekly volunteer and mentor for the youth in the organization. She is a strong role model and provides a safe place for the girls to learn and grow. Krista strives to provide a positive impact and life long memories.
For FireSmart, she volunteers her time at Community Events, outreach education and installation of the wildfire sprinklers. She is passionate about sharing FireSmart information to all our residents and keeping our community safe. This was further proven during the 2021 Tremont Creek Wildfire. Krista stayed behind and volunteered everyday to feed and help all of the fire fighters. She put in an average of 17 hour days volunteering during the evacuation supporting our local fire fighters, public works staff, Structural Protection Units, BC Wildfire Crews and the RCMP. This led Krista to become one of the Logan Lake Fire Rescue Department members in February 2022.
Letters were included in the nomination package from some of the firefighters expressing what a difference Krista made to the mental health and spirits of all during such a stressful time.
Krista is very deserving of the Citizen of the Year award not only for her countless hours of volunteering but her passion and dedication to Logan Lake and its residents. Krista goes above and beyond as part of her nature and Logan Lake is very lucky to have her as a member, mentor, and helper of our community.
Youth Citizen of the Year
The purpose of the Youth Award is to recognize outstanding youth, their volunteerism and/or
contributions to the community. This year's recipient is Alex Paterson who was nominated for his outstanding contributions in Service and Caregiving and Sports and Recreation.
Alex is a volunteer fire fighter for the District of Logan Lake and is very involved in community events throughout the year. Alex is frequently volunteering his time to attend community fire smart initiatives, community info days, and help with Canada Day celebrations. Alex also volunteers his time to teach younger community members, such as the local girl guides, fire safety and demonstrations. All of the community events and support that the fire fighters provide the public are volunteer hours and there is no compensation for them.
During the Tremont Creek Wildfire, Alex was one of the volunteer fire fighters who stayed behind to help save Logan Lake. He was also the only youth who did so. Alex spent endless hours every day that our town was evacuated, working tirelessly alongside all of the adults and professionals who flooding into Logan Lake to save it. He did his best every day to make sure our community was safe from disaster.
He is kind, thoughtful, and patient with the local kids and he never hesitates to help out or to support his community. Logan Lake is very honoured to award the Youth Citizen of the Year to Alex Paterson.
50 Year Resident Recognition
The Logan Lake Lion's were awarded a certification in recognition of their 50 Years of dedicated service to Logan Lake! The list of contributions this club makes to the community is significant and far reaching.
The Logan Lake Lion's Club celebrated their 50th Anniversary this year as a club in Logan Lake. The District would like to recognize the Lion's Club for their accomplishments and their dedication to the community. Below is a list of the many functions, volunteer hours and fundraising events that the Lion's Club has been a part of:
Hot chocolate for Light Up the Lake; Bottle Drives; Lobsterfest; Teen Nights; July 1st Hot Dogs and Parade; Rodeo's; Polar Carnival; 50th Anniversary Event; Remembrance Day; Community Market; Meat Draws; Craft Chaos; Fishing Derbies; Softball; Slip-n-slides; Triathlon; Christmas Tree Light Up; Snowriders; Bicycle Safety for Schools; Splash Pool; Purchase of Health Equipment; Beds to Individuals in Community; Plexiglass at Recreation Centre; Tennis Courts; Benches; Lifeline through Health Centre; Disaster Relief around the World; Knights of the Blind; Easter Seal House – Provincially; Camperships; Funds to the Food Bank; Grilled Cheese on Thursdays; Flu and Covid Clinics; The Buzz Newsletter with the LL WHY; Christmas Hampers; Funding for Community Centre; Vision, Hearing and other Screenings; Bursaries; Warm-a-Belly; Christmas Dinner at schools; Breakfast Program 5-days a Week.
This list only reflects a small number of the many things this group does in our community. Without the hard work and dedication of the Lion's, Logan Lake would not be the community we know and love today.
In the words of Margaret Mead:
 "Never doubt that a small group of thoughtful, committed citizens can change the world;
indeed, it is the only thing that ever has."
The Logan Lake Lion's Club holds their meetings at 4:45 p.m. on Tuesday nights at the Firehall and welcomes new members.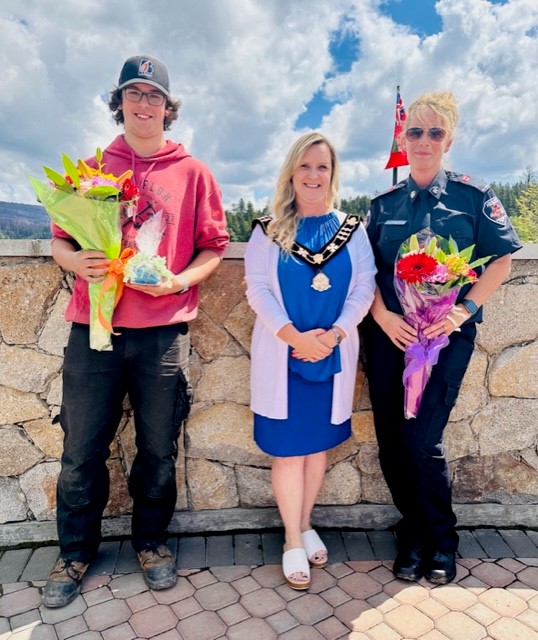 ---
Post Date: June 23, 2023 | Category: News Releases