The TNRD wildfire season of 2021 was a tremendously challenging season! Below is a time-lapse video, put together by the TNRD, showing wildfires and the associated evacuation statuses. We had quite the year!
The time lapse is from June 28th to September 8, 2021.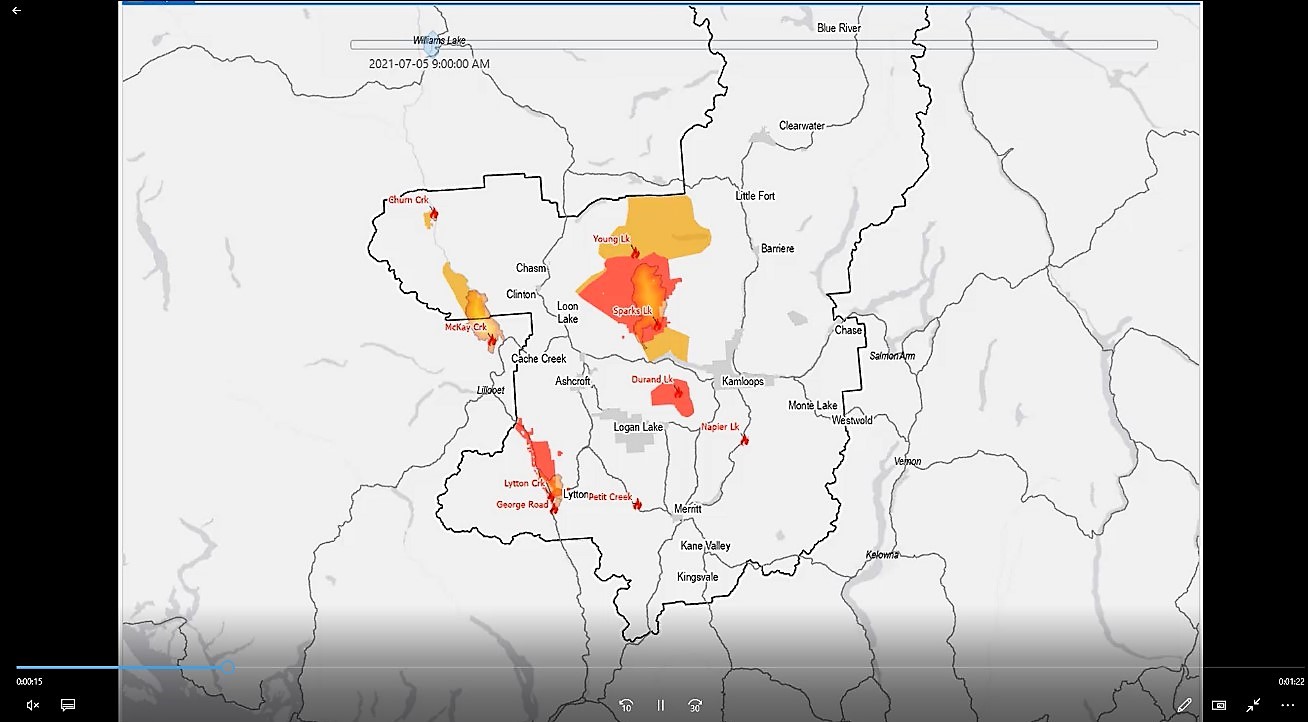 Time-lapse Video – Wildfire Season 2021
Key Dates:
June 28: Emergency Operations Centre activated in the midst of record-breaking "heat dome" event. Sparks Lake fire discovered.
June 30: EOC is brought to a Level 3. Lytton Creek wildfire ignited – Village of Lytton and Lytton First Nations evacuated.
July 8: Embleton Mountain wildfire discovered near Sun Peaks / Whitecroft. Flat Lake wildfire discovered northwest of 70 Mile House.
July 9: Bus tour for Lytton residents to view damage.
July 12: Tremont Creek wildfire discovered east of Ashcroft.
July 13: July Mountain wildfire discovered near Murray Lake (south of Merritt). White Rock Lake wildfire discovered near Douglas Lake (southeast of Kamloops).
July 22: Spences Bridge and Highway 8 corridor placed on Evacuation Order.
August 4: White Rock Lake fire reached Monte Lake / Paxton Valley.
August 12: Logan Lake evacuated.
August 14 / 15: Cold front brought massive wind event that caused explosive fire growth. Cherry Creek / Lower Nicola evacuated. Highway 1 and 5 closed. Highway 3 nearly compromised.
Late August: Cooler conditions and scattered showers lessened wildfire activities. Order and Alerts started to be downgraded.
September 10: EOC scaled down to Level 1 after 75 consecutive days of activation.
Key Statistics:
The TNRD issued 100 evacuation orders and 193 evacuation alerts. The TNRD accounted for 60% of the Provincial orders and alerts.
At least 3,641 homes were evacuated, and at least 6,695 homes were on evacuation alert.
Approximately 165 structures were damaged and/or destroyed.
The TNRD's Resiliency Center was operational for 143 days.
The Provincial total number of Wildfires of Note is 67. Approximately 25% of which were in the TNRD.
---
Post Date: April 20, 2022 | Category: News Releases Public Notices